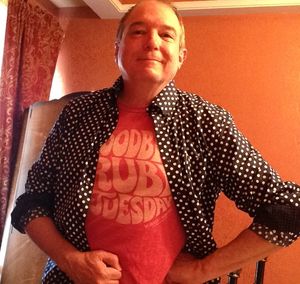 Some Interview questions from readers of my Newsletter:


Mark McKenna: I've known you since you were a "wee lad". How old were you when you first picked up a guitar? 
Fulton: Long before I played a real guitar I used anything I could find to play "make-believe" guitar.  The air guitar had yet to be invented so I had to use ordinary household items.  I strummed a tennis racquet in early grade school along to the rock and roll records of my older sister.  I also recall my younger brother and I nailing a cardboard cutout to a baseball bat and stringing it with rubber bands to make a more advanced make believe guitar.   We also had our share of toy cheap guitars and ukuleles. 
Even though we did not know how to play we would write our own songs and sing them on our front porch.   Our first song we wrote was the theme song for our band "The Pink Elephants" 
I can still hear us singing it on the front porch with our tennis racquet and baseball bat: 
We're the Pink Elephants 
Pink Elephants 
We're coming to your town 
The Pink Elephants, Pink Elephants 
The coolest cats around 
My brother Tim and I decided to mow yards to buy our first guitar during the summer between 6th and 7th grade.  It was a nylon string acoustic we had bought at Music Manor in Hays, Kansas.  Mom then paid for us to "Share lessons."  Tim would go one week – then I would go the next.  The first song I remember learning was "Where Have All The Flowers Gone?" 
The plan was for our teacher to give my brother Tim a lesson one week then me the same lesson the following week.  But Tim and I were too eager to learn.  Whatever he learned he showed me and vice versa.  
So, the first time I laid my hands on a real guitar was at the age of 12. 
Chris Gansel: I've watched you play in Bluebird, Jimmy Dee & the Fab Destinations, Blind Date, and finally Submytion for the first time in Hays last year (or was it early 2016?).  You seem to have a love of all things Beatle, and I love your instrumental Beatles covers, but I've never heard you cover a Beatles tune live with any of the aforementioned bands.  Why not? 
Fulton: Good observation Chris – pretty close to accurate. 
In the early days of Blubird we played "Hold me Tight" by the fab four.  I think in Blind Date we did Twist and Shout, and in Submytion we did Revolution which I sang. 
But you are correct that we did not play as many Beatle songs as I would have liked.  That comes down to many reasons.  If you recall the band Plain Jane did a Beatles medley that they were known for and they played many of the same places we did.   Another factor is that the bands you mention had a harder rock style than most of the Beatles tunes.  Since the Beatle songs are so well known I don't like to play them in public unless I feel I can do something different to them that catches the ear.  I guess that is why I have done mostly instrumentals of their songs.   For some reason instrumentals of The Beatles are not judged as harshly as a copy song with vocals.   
Tim Schumacher: How many guitars do you own?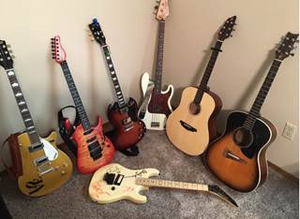 Fulton: From Left to Right here is a personal story on each one: 
2012 Gold Top Electromatic Gretsch (The Love Guitar).  I bought this from Mass Street Music in Lawrence.  It has a nice look and sounds great on clean sounds or slightly dirty blues sounding licks.  I put the Love sticker on it a few months after I bought it.   I have recently started learning slide guitar and have set the action up high and put heavy gauge strings on it.  It has a nice soul to it.  It's on the cover of my new CD. 
1988 Zion Radicaster.   I bought this new from Profound sound in Andover, Kansas.   I was in the band Blind Date at the time and we had booked a gig to play with the band Kingdome Come.  I was playing a Kramer at the time that sounded real good and played great – but I had a hard time keeping it in tune.  I had been thinking about getting a different guitar and I guess that gig was the catalyst that made me get serious.  I have been a Kerry Livgren fan since the first time I saw him play and he was endorsing Zion at the time.  That was another factor in me zooming in on this brand.   The band was playing Wichita and I had played this guitar a few times while we were in town.  I drove down to Wichita from Hays to purchase it.  It has been my favorite guitar.   Almost plays itself.   It has a humbucker pickup, two single coil pick-ups and a whammy bar. What else do you need?  I have received many compliments on how this guitar looks and sounds.  Going on 28 years and it sounds great. 
2014 Gibson SG.  I had a red SG in the 70s while playing with the band Blackball.  I was also impressed by Topeka guitarist Warren Eisenstein who played with White Clover and then Cocky Fox.  He had a black SG that he made sound very full and fat.   My red SG guitar was dropped and the neck started cracking so I got rid of it.  Through the years I have liked the sound of the SG via Black Sabbth or AC/DC.   I purchased this one on sale at Guitar Center and it gets a great sound that is a little more raw than the Zion.  I have used it to record a few tracks and to double some rhythm tracks with the Zion.  I put a leather strap around the headstock in memory of my guitar teacher Mick McTee.  He used to do that so this piece of leather always reminds me of him.  This is the guitar on the back cover of my new  CD 
1980's Fender P bass:   This belonged to my brother Tim.  My family gave it to me after he passed away.  I am not sure of the actual year of it.  Tim bought a fretless neck to go along with it but I have never used that.  The guitar strap was the strap Tim had on it when he died.   I use this on all my songs that need bass.  It has Tim's heart in every note it plays.  
Breedlove Acoustic:  A nice sounding cheaper guitar that I use to write on when just clunking around on some ideas. 
1979 Gibson MK II -  I bought this from Sunshine Sound in Hays Kansas.  It is a factory second.  I got a good deal on it since I worked in the store at the time.  This is the guitar I used to record the song Some Guys on the Blubird album.   I have used it for anything I record that has an acoustic in it.  I drilled two holes in it to hold an electric pickup in the late 80s.  
1986 Kramer:  This is the guitar I won at the T-95 Hottest Guitarist contest.  As a result I met the Van Halen band and they all signed the guitar.  I don't play this one. 
Tim Schumacher: Can you name all the bands you played in, in order. 
Fulton: No, I can't… but I will try. I will start with the Bands that were paid because the list of bands that never played a paying gig is reminiscent of a genealogy list in the bible. 
The Pink Elephants begat The London Fuzz.  The London Fuzz begat… - Get the picture. 
Finally, we were good enough to get paid 
Mud - 1972 
Colossus - 1973 
Blackball -1974 
Oakridge 1975 
Eclipse 1976 
Madgic 1976 
Daybreak 1977 
Jimmy Dee and the Fabulous Destinations 1979 
The Boys 1980 
Blubird 1981- 84 
Blind Date 1984- 89 
Submytion 1989-91  
 Tim Schumacher: What has technology done to enhance your music production? 
Fulton:  It has greatly enabled me to write and record music that is at a quality I could never achieve back in the day when I performed for a living.  We wrote some great songs, and played some great stuff back in the day.  Although it sounded great in the studio when we recorded it – once it was mass produced it was weak at best.  It is much easier to make a great sounding recording with today's technology. 
Tim Schumacher: Do you feel like you're a better guitar player now compared to 25 years ago?   
Fulton: Yes and no.  Yes, because I feel my ideas are better thought out now and my sense of melody has improved.  No, because my dexterity is not what it was in my 20s and 30s.   But overall, the production on my music, songwriting, and melodic content make up for the loss of dexterity I had as a wee lad when I played the baseball bat. 
 Bernie Schulte: What is your personal favorite song you've ever written and what inspired the song? 
Fulton: I really had to think this one over.  My most popular songs ( the ones people ask me about all the time are ( Some Guys, Thunder and Lightning, Major Astro, My Kansas Home – Not to mention The Pink Elephants theme song).  My favorite song on the new CD is Every Day's A Holiday. 
I've never had a "hit" song so I can't pick that one.  Gosh this is hard. 
I am going to say "My Kansas Home" because lyrically I like the picture it paints and musically I think it has a pretty good goose bump factor. 
What inspired it – I was driving my daughter Melanie to Austin, Texas becasue she was thinking of moving there.  On the way down it seemed like every town in Texas had a song written about it – and the state of Texas also has many songs written about it.  Those people from Texas sure think they are hot stuff.   Yet, when I tried to think of a song about Kansas I was coming up with nothing.  So, on the way back home I decided I was going to write a song about Kansas to show those people from Texas they ain't as hot as they think they are.  
I first wrote it as more of a rock ballad – similar to Dan Fogelberg or James Taylor.  Then I sent the music to Terry Wright and asked him to do the vocal.  When he sent it back he sang it very "Country" sounding.  I LOVED IT.  I re-recorded all the underlying instruments to make it sound more country and I think it turned out great. 

My Kansas Home
My Kansas Home from the album Silvertone by Fulton