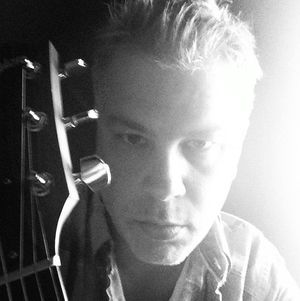 Fulton: What first got you interested in music? 
Jeff: Well, when I was about 14 years old, I got my first guitar. It was a black Gibson Les Paul type guitar. I mostly learned on my own, but the minute I learned my first three chords, I knew I was ready to start my first band. I started my first band with my high school friend Terry Barton. The name of that band was Breakaway. 
Fulton:  You released a CD recently - Tell us about that. 
Jeff: I released my first solo cd about 2 years ago. Heart to Heart. I was going through a difficult time in my life at the time and it's the first time I was able to really put lyrics together along with the music. The CD has 6 songs on it. My favorite song on the CD is Alone.  It was co-written by my friend John Goolsby, he was also the vocalist on the song. Love that song! Still do! 
Fulton: How can people purchase your CD? 
Jeff: I still have copies of the CD in stock. If any one wants a copy they can just email me their address and I will send one to them. If they pay the postage, I will throw the CD in for free! Jhansenku@cox.net 
Fulton: We both played in the band Submytion tell us how that band started. 
Jeff:  Submytion was started as a breakaway from Breakaway. Lol 
Terry Barton, Troy Jeffries, Kelly Ginther and myself started Submytion in 1983 I believe. I played in Submytion 10 full years. Some of the best years of my life! I made lifetime friends from Submytion and experienced some wonderful times! Old Memories! 
Fulton: Tell us about the songs you played on for this CD and your part in that. 
Jeff:  On Fulton's new CD I played acoustic guitar on Two Small Words and electric guitar on Rip My Heart Out. Fulton and I continue to play and write together still looking for that number one hit!  (Fulton's note: I'd settle for a top 10) 
Fulton:  Any new music from Jeff Hansen coming? 
Jeff:  I currently have a studio set up in my house. I have started writing again and collaborating with Fulton Calvery, John Goolsby and Chris Brungardt. I have two songs written and working on new material. I hope to have a new CD released sometime in 2017!