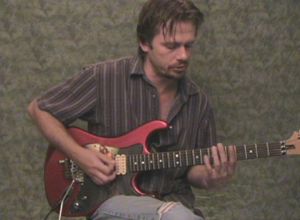 . 
Fulton: Tell me about your first attraction the guitar? 
Chris: I was compelled by the power of Johnny Cash as a wee lad - and John Denver. I saw my cousin Randy Brungardt, who's a drummer in Vegas these days, play at the Russell high school when I was pretty young. Gave me an early taste of the power of playing an instrument. 
  
In grade school Kiss and Triumph caught my attention. I had to wait quite a few years before I could talk my folks into finally scoring a guitar at 14. By then I was digging Van Halen, AC/DC, Iron Maiden, Thin Lizzy, Judas Priest, Black Sabbath, Deep Purple, Ozzy, Scorpions, Accept, Molly Hatchet, Skynyrd, etc. 
  
Once I started learning to play and appreciate guitarists, Randy Rhoads, Eddie Van Halen, Gary Moore, Tony Iommi, Frank Marino, Angus Young, Michael Schenker, Uli Roth, Ritchie Blackmore, John Sykes, Yngwie Malmsteen, George Lynch, Paul Gilbert, Al DiMeola, Steve Lukather, Zakk Wylde, Nuno Bettencourt, Joe Satriani, Steve Vai (probably many more I'm missing) were all required listening and learning. 
  
Always learning, actually. Long answer to a short question, but I'm pushing 50 and this is my first and probably only interview, so... 
Fulton: You are a well-respected guitar instructor and have taught people from around the world.  How did that come about? 
Chris: I started giving lessons at 17 or 18, so I thought why not try to organize a few of my ideas and put an advert in some guitar mags, there was no internet at the time, the PC wasn't commonplace yet. Once I got my first computer, that opened up the whole new world of desktop publishing. Then came the internet, the ability to record quality digital audio, edit video, make your own DVDs, better bandwidth, offer downloadable product. Around 1998 I started making some connections with other guitarists around the US and developing product with them. That led to working with around 30 guys here in the States, a handful from Europe, and a few in South America. This is all making me feel old. 
Fulton: You play guitar on two songs on the CD, one of which you wrote, How would you describe the process and the experience of putting this together? 
Chris: It's been a great experience! Loads of fun to reconnect with you Fulton after so many years and finally get to record some guitar wankage with you! You are actually the source of the name of my website, chopsfromhell.com. I remember hanging at your place ages ago watching a Steve Lukather instructional. Steve rips off this blazing pentatonic lick at the 12th position. I say "man, that guy has got chops!" You say "he's got chops from hell!". There you have it.  (Fulton's note: I am pretty sure I was referring to some pork chops I had just cooked up and said "These chops taste like hell! ) 
Fulton: You also are mixing all the music on the CD.   How do you approach that differently than adding your guitar to a song? 
Chris: I just use the ears and try to get a mix that I dig personally. Then get it to you. Hope you dig it as well, and wait for your suggestions and changes. Every tune I write, record, play on, or mix for someone else is a always new learning experience! Gotta keep learning and trying to improve, no matter what it is you do!