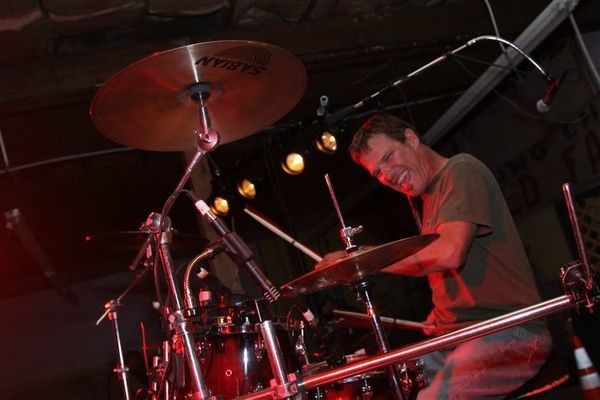 Stan Hartman has been a force of nature on the Kansas music scene since the early 80s.  As drummer for bands such as Image, Film @ 11, and DOGS?  he has built a great reputation as a powerful drummer, showman and vocalist.  Stan also filled in for drummer Steve Swaim when The Clocks were inducted into the Kansas Music Hall of Fame.
Recently Stan recorded the drums for my new song Rendezvous With Destiny.  Following is an interview I had with Stan on his career in music.
__________________________________________________________
Fulton: What was your attraction to the drums?   
Stan: Oh man! My attraction to the drums came at a young age for me. My brothers played before me. I went to a jam thing my brother did with some of his buds in the little town we lived close too! I was a little country boy, hangin out in town with my big brother, and he's actually at a jam session! Wow! Lol! But that was it for me! Hooked! 
My brothers didn't keep playing but I did and along about 6 or 7 I picked up the sticks and started banging on them drums!  
Fulton: Were you one of those kids that banged on everything in sight?    
Stan: No I wasn't really one of those kids, but I listened to a lot of records over and over! Drove my family crazy and then I'd head to the basement and bang them drums. 
My mom loved popular jazz and classic singers! 
Andy Williams, Frank Sinatra, Perry Como, Herb Albert  
My dad loved country! 50s and 60s country! 
Of course my sisters were pop and pop rock of the 60s and 70s! And I listened to it all!  
And I always like it loud! Ha! 
Fulton: Were the drums your first instrument? Do you play other instruments? 
Stan: Drums were my first instrument! Other than sing a little bit that's my only instrument. 
Fulton: When did you feel like you had the aptitude and desire to be a drummer? 
Stan:  When I was maybe 12 or 13 my family moved from the country to a bigger town that was about  25 miles from where we lived! I joined band class really young and could play really quick! I loved it and always played in school band. And then jazz band when I got in jr high! I was so thrilled cause I knew I could play and really no one in my class played! There were some good kids behind me but I was it in my class!  
From that when I turned 14, a friend of mine that was also a drummer in school band, decided we needed to do this! He got a 1 on his snare solo at state band competition! His parents told him if he got a 1 on his solo, they'd buy him a set of drums OR a bass guitar!  Needless to say he got a bass and an amp and it was on! 
I really didn't think I'd play for the rest of my life but.... here we are! 
Fulton: I first came to know you though the bands Image and "Dogs?" what were some of the highlights of those two bands?  
Stan: Yeah Image and Dogs were my first real run with bands with full lights and sound! Image carried big sound and lots of lights! Fun but whew was it work! Back then PA was big, awkward and heavy! Lights were no breeze either but you had to have them! In Image set ups were regularly 3-4 hrs! Then our light guy had another 2-3 hrs 
It was tough and we'd regularly tear down Saturday night and hit the road! 
In Dogs? we streamed lined our stage and set up but equipment was still heavy and awkward! 
Also gigs back then were 3-6 nights a week! 
Money was about enough to eat each day. 
Tough life? Hell yeah but we were playing full time which is what we all wanted to be doing! 
Dogs? went up to Vancouver Canada one summer in about 83-84! That was a lot of fun! 
We played in Vancouver for 4-5 straight weeks at different clubs! Big clubs! It was way cool. 
Got to meet Brian Adams and some of the dudes in Loverboy! They lived there and came out to one of the clubs we played! Pretty cool! 
Fulton: Did you do any recording? 
Stan: Image was trying to find someone interested in the band! We recorded a few times! Mostly local studios! We didn't know much about recording in the studio so we all just banged it out together! 
Everybody played and recorded at the same time! Didn't have time nor money to do over dubs!  
Dogs? worked hard at being an original band while at the same time playing clubs and covers!  
We went down the New Wave and pop road! We recorded an EP and sold it on the road! 
Made us a little different at the time! 
Springfield Missouri and KC were some of our fave towns. Along with Aggieville in Manhattan Ks. 
and there were some fun gigs in western Ks.Goodland and Norton Ks were good gigs for us! 
Fulton: What does the future hold for you and music? 
Stan: There's nothing like playing music with a band!  For me, as long as as I feel good and still have a band that can go out and play, I'm gonna keep giggin! And I love doing projects like the one you and I just did! Recording in the studio is a challenge to get your tracks right and sound good with the other players. But I think we struck a nice chord with Rendezvous.
---------------------------------------------------------------------------------------------------------
Look for Stan's great drumming on the new song Rendezvous with Destiny to be released July 31st, 2018 on iTunes and Amazon