Interview with Jerry Sumner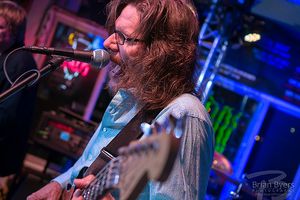 Jerry Sumner is a legend in the Kansas music scene. His band, Clocks, signed to CBS/Boulevard records in the early 80s - releasing a self-titled album which spawned the popular single 'She Looks a Lot Like You' to both the radio airwaves and MTV.
As part of Clocks Jerry was inducted into The Kansas Music Hall of Fame.  He regularly plays with his current band The Invisibles when he is not on the road in a support role touring with Steppenwolf.
Jerry sings on my new release Sally Was Different, Listen here as you read the interview..
Sally Was Different (Feat. Jerry Sumner & John Kinsch)
Below are some questions Jerry answered by e-mail in regards to his career.
Fulton: How did you first get interested in music? 
Jerry:     I first became interested in music when I was young. Music always made me feel different inside than I usually felt. I like the feeling and wanted to make it myself. I also love the Beatles. 
Fulton:  Who were some of the early local musicians you looked up to? What types of places did you see them? 
Jerry:     Some of my first influences were people my mom and dad listened to, also my brother and sister always had albums. I really liked Mike Finnigan when I was young and still do. There was a drummer around our community center who we all thought was the coolest guy, so I started on drums. Did I mention the Beatles? They had this guy, Ringo.... I didn't see too many bands live. Mostly on TV and a group of old guys that played at the community center for the golden agers. There weren't many places to see bands. My dad and his sister both played guitar and my mom sang for Sweet Adeline's. My mom's mom and her sister both played piano at church. We had a piano and organ at our house. Music was always around. My older brother was a pretty good pianist also. He got a guitar when he was at college. I took to sneaking it out and slowly taught myself to play. I have a distinct memory of going to see my mom for Sweet Adeline's. Since I was the baby of the family I always went to their shows. They would usually have afterglow parties. I snuck down to one in Tulsa. My mom and my aunt and the rest of the ladies made a big fuss over 5 year old Jerry. They all sang songs to me and were smooching on me. I loved it. That's when I realized music was the job for me! 
Fulton: Were you a founding member of the Clocks or did you join that band? Can you tell how the original lineup fell into place? 
Jerry: I was an original member of the band. We started out with me and a sound man, Greg DeLancey. I had been in a band with Lance Threet in junior high and high school. The three of us joined a band Gerald Graves was in called Sir Cuss. We decided to go out on the road and two of the guys didn't really want to go.. We hired some other people over a period of time and eventually talked Steve Swaim into joining the band. That's when it became Clocks. 
Fulton: How did Clocks record deal happen? 
Jerry: The record deal came through our management, Good Karma Productions. They were a company in KC that had managed Brewer and Shipley and The Ozark Mountain Daredevils. They secured our deal. Shout out to Paul Peterson and Stan Plesser. 
Fulton:  Describe the first time you heard yourself on the radio? How about MTV? 
Jerry:     Seeing yourself on TV and hearing yourself on the radio is when reality sets in. It's really fantastic but then you realize how much work you have to do. It's really what we live for in the music business. 
Fulton: You have such a unique rock voice. When did you realize you could sing and who were your biggest influences? 
Jerry:   I always loved To sing and just started singing in bands when I started out. I always loved singers who could sing rough and bluesy. I tried to emulate that sound and what you hear is me trying to do that.. I love John Lennon's voice and Peter Hamill from Van Der Graaf Generator. 
Fulton: Describe your creative/working relationship with Steve Swaim?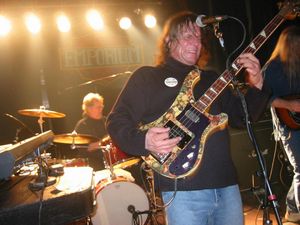 Jerry: Steve and I were really good friends. I loved his songs. We were very competitive with each other. 
Fulton: You and Conrad Stolze have had an incredible musical partnership for many years. Dogs? And now The Invisibles. How can someone go about getting some of your music with these bands? 
Jerry:  When Lance left the Clocks, Conrad auditioned. He ended up not joining, but we heard his songs. I thought they were great songs. After the Clocks broke apart I was asked to sing with Dogs?. I had been hanging out with them at gigs and jumped at the chance. Con always encouraged me and he still does. Dogs and the Invisibles have Facebook pages.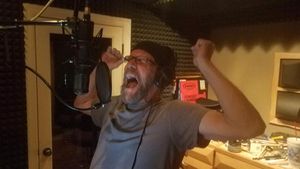 Fulton:  For the past several years you've also been touring with John Kay and Steppenwolf in a supporting role. Tell us a little about that experience. 
Jerry: I started being a roadie because I needed work. Steppenwolf was a band I liked when I was a kid. John Kay is a great boss and friend. I like the family like vibe of the band and Doug Adams is part of the crew. We are brothers from different mothers. 
Fulton:  You did an incredible Job singing on the song Sally Was Different. I love some of the low talking stuff you came up with. You also mentioned you liked the song because your mom's name was Sally "and she was different." You gave me lots of vocal tracks to play with in putting it together. What is your thought process as you record vocal tracks for a song? 
Jerry: When I sing nowadays, I always want Conrad to be there. He gets the best from me and won't let me puss out. He comes up with ideas and I try to pull it off. Put his name beside mine on the vocals. We will keep working on new stuff, it's what we do. Thanks for letting me be part of your musical life. I like the new music.
Purchase the Song Sally Was Different by clicking on the below photo.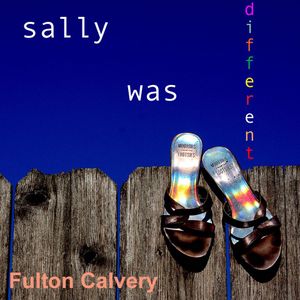 Photo by Stephen Cross.
Related Links: