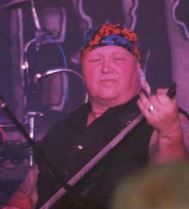 Fulton:  When did you realize you had a talent for singing? 
Terry Wright:  When I was in junior high, I used to go to the skating rink on the weekends, and sit on the railing next to the Jukebox. The large collection of songs in the Jukebox appealed to me more than skating did. While others were skating, they would come up and ask "what's a good song?", and I would say "Play the Eagles", or "play this song by Journey". So in a sense, I guess a lot of my friends helped pay for my musical education with their money in the Jukebox, while I would sit on the railing and sing the songs! It was in listening to those songs that I would hear characteristics and stylings of vocal ability, and try to emulate them. 
A few years later, when I was in High School, a rock band from Hays, KS came to play at a Senior Party for the graduating class, and although I was only a Freshman, I hung out by the sound board with Dad (Terry) Pfeifer as Blubird rocked the house. The next year, I made it a point to meet the guys in the band at another local gig, and from that day, Fulton was someone I looked up to. It wasn't until 2007, that I finally had the privilege of performing with the Man, the Myth, The Legend, Fulton Calvery. I'm beyond blessed that you've asked me to work with you on these songs! 
----------------------- 
Fulton: You sang on two songs on the CD.  Those Crazy Things You Do, and Baby Blue.   How did you approach those songs? 
Terry Wright: I have to admit, that when I received the demos for "Baby Blue", and "Those Crazy Things You Do", a lot of the work had already been done by you, Fulton, which made my job a lot easier. I would basically drop the demo track into my Studio software, pull in the instrumental track alongside it, and go through the song phrase by phrase, working on each of the parts as needed, and then mute the demo track when I sang my multi-track recorded parts. 
----------------------- 
Fulton: You have been involved in Christian ministry and music for many years.  How did that come about and where can people find out more about it? 
Terry Wright: In 1996, I was traveling in a country cover band, named 'Midnite Run'. We were traveling quite a bit around the US as a full-time Road Band. 
In June of '96, I went to a Christian men's Promise Keepers conference at Mile High Stadium in Denver, Colorado, and realized that the road that I was on, was self-serving, self-seeking, and eventually was going to run out as I would lose interest in musical styles and things that would change in the business over the next several years. 
When I walked into that stadium, and heard 70,000 men singing "How Great Thou Art", "Amazing Grace", and other songs that I knew from my early years of going to church, it was the most awesome sound I had ever heard! And the applause wasn't because the Broncos had just scored a touchdown, but because these men were praising God for what he had already done for them, and in advance of what is yet to come. It was on that Saturday that I re-committed my life to Jesus, and began allowing Him to help me identify and replace what was missing from my life, and I began looking for ways to serve Him and His people, by using the gifts and abilities He had given to me. 
In 2000, my brother Jeff and I started a band called 'Solar Eclipse', which was a Christian alternative rock group aimed at music that would appeal to teens and young adults. With a 10-foot projection screen, and a monster PA and lights, we played large youth conferences, Church events, Community concerts, and even became the full-time worship team for a church plant in Olathe, KS, known as Frontline Ministries for the better part of seven years. 
'Solar Eclipse' ministered in the Midwest for 13 years, finally dissolving that Ministry in 2013, as we had all become busy with raising families and becoming more involved in our individual churches. 
My wife Melissa and I began our own traveling music Ministry in 2011, which has turned into a full-time Ministry for both of us, including our children, who travel with us on the road, known as 'The Wrights'. We just celebrated our 5th Year in Ministry this past October, and by Year's End, we will have been in more than 150 churches and communities since January. Our schedule continues to grow exponentially, with anywhere from 2 to 5 events per week. You can find our schedule at www.TheWrightsMinistries.com. And if we're ever in your area (Yes, You who is reading this), we would love to see you, and if not, contact us come to your church/community. 
------------------- 
Fulton:  I love your song Written In Red.  How did that song come to you? 
Terry Wright: The song "Written In Red" actually has a great story, and we usually share it at each of our concerts and services before we sing the song. It has become our trademark song, If you will, and has been the one most remembered at all of the places that we've been. The story goes like this: 
"I believe God still speaks to us these days--in many ways, including through music, which sometimes speaks to us in a way that regular ol' words don't quite get it done. I believe He also speaks to us through His Word, the Bible. For instance, you may have read the same passage of Scripture 23 times, and on the 24th time, it finally makes sense! It's like he's trying to get His message across to us, and the light bulb comes on and we finally understand. I also believe He can use us as individuals, because He might have us take that Scripture and share it with someone else, who needed it at that exact moment. 
I also believe He still speaks to us through dreams. I believe that, because one night I awoke from a dream, and heard a song playing in that dream that I had never heard before. I immediately recognized it as an opportunity for us to have a new song to take out to share with people. However, it was 4:30 in the morning, and I don't typically get up at time, so I told the Lord that I would get up to work on it in about 3 or 4 hours when I would be getting into my day. 
So, I went back to sleep, and when I woke up in a few more hours, I was excited and told my wife Melissa about it. She got excited, and I went downstairs to work on the song. Two hours later, my phone rings, and she is asking me to play this new song for her, because I should have it done by now, right? On the contrary, I didn't have anything like what I thought I remembered from the dream, and it wasn't even close to being done. I got pretty discouraged, and my wife reminded me that God is a faithful God. And if he really wants me to have it, he'll give it to me again. 
So, God being the God of 2nd chances, 3rd chances, 4th chances, etc., He woke me up at 4:30 in the morning, two nights later, with the same song in a dream! I immediately jumped out of bed, and in five minutes, from the pen to the paper, He did what I couldn't do in 2 hours on my own, struggling to complete the job. 
When God gives us something to do, He will also give us what we need to accomplish it. Where He gives the VISION, he will be the PROvision. I have trusted in him every day since, and He has been faithful in every way possible. And if He can do it for me, He will do it for you!" 
Hear the song Written in Red
Terry Wright 
www.TheWrightsMinistries.com 
Office: 785-289-8905 
Cell: 785-633-3224