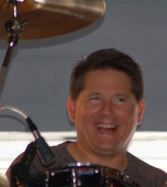 Fulton: What first got you interested in drumming? 

Troy: I cannot remember not being interested in the drums - LOL.  My uncle Max was a big music fan and I think listening to his Beatles albums, etc. from an early age got me excited about music.  I was the toddler with the toddler drum set!   When I was 9 or so,  I saw KISS play on Midnight Special and that was so cool - I just wanted to be a drummer like Peter Criss.   
Fulton: Who are your biggest influences as a drummer and why? 
Troy:  My early influences were Ringo, Keith Moon, Bonham, Ed Shaughnessy (Tonight Show) and of course Mr. Criss.  Too many great drummers to list like Matt Chamberlain who can make any drumbeat groove.  My favorite drummer is Terry Bozzio because he is the ultimate drumming bad ass and continues to push the musical boundary of what is possible behind a drum kit.  When I worked at Explorer's Percussion, we hosted many Bozzio clinics and he such a great guy and class act.  

Fulton: You play on two songs on my CD.   What was your approach to these songs? 
Troy: I was so excited to go to the studio and hang with you guys and be part of the experience!  I wanted to put some stuff down that fit, sounded good and you guys could build upon. 

Rip My Heart out is a rocker with a great riff that I just tried to drive and play with energy. I really like how the song turned out.  
Two Small Words is a more laid back in the pocket tune.  I really like the message of this song - good work Fulton!  I also like the different music elements that make up this song - catchy chorus, driving bridge and kind of an "outside the box" drumbeat for the guitar solo. An honor to be part of the project - thanks Fulton! 
Fulton:  What are doing these days musically?   
Troy:  2016 has been quite a musical year for me. The year stated with our Submytion reunion show at Voodoo Lounge in Kansas City.   It is so special for me reunite with the Submytion family and play music with the guys I have played music with forever. In addition, I have performed with eight different bands this year - my Set list maker app is full! One highlight was playing on the Pompous Jack rotating drum riser - kinda like drumming on a carnival ride - impossible not to smile. 

I am currently playing drums for the talented country songwriter/artist Drew Six and cover band Parachute Adams.  The other bands I played with are Big Time Grain Company, Funk Syndicate, Fast Times and Counterfeit Twenty.  
I also started taking drum lessons again from drumming legend Todd Strait.   We picked things up right where we left off 23 years ago!  Todd is so great to work with - it is so intimidating to play in front of guy who is a master drummer - but he is gracious and does not ever laugh!