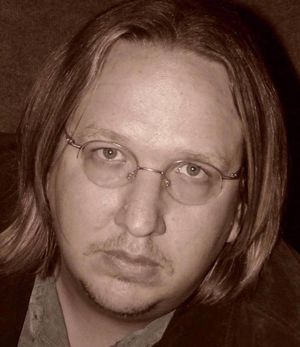 Fulton Calvery:  When did you first realize you had a talent for singing? 
Jake Livgren:   From the earliest ages, my Grandmother, who was amazing human being as well as a singer and pianist, would sit with my sisters and I and play old songs from her era, as well as Disney songs and such, and have us sing them with her. She taught us so much about singing and music in general. To be honest, my sisters were much more diligent about it and as a result, are much better singers than me today. I was usually too busy playing with my GIJoes, but I joined in often enough to learn a few things. I didn't start taking it seriously until around middle school when I discovered rock music. I sat for hours a day putting on Kansas and Toto albums and used guys like Steve Walsh, Bobby Kimball, and Steve Lukather as my personal vocal coaches. 
Fulton Calvery: You sing two songs on the CD - Two Small Words, and Every Day's A Holiday. How did you approach each song when recording your vocals? 
Jake Livgren: On Holiday, I used the attitude on your demo as an inspiration. I really liked the kind of raw, post punk feel that it had. On Two Small Words I felt like there were some real emotive lyrics that inspired a more soulful approach. I just kind of let my spirit run with that one. 
Fulton Calvery: Do you have other musical projects you are currently working on? 
Jake Livgren:   I have a few irons in the fire. I've done some work with Kerry here and there lately on some upcoming stuff of his. I am also continuously working on an upcoming album with my long time partner Bill Evans. I also co-wrote and sang a track this year on the new Time Horizon album. Always looking for more opportunities though. 
Fulton Calvery: You have recorded vocals on songs for your uncle - Kerry Livgren.  How does he convey to you what he is envisioning for the vocal part since he is not a vocalist? How has that experience been for you? 
Jake Livgren: Well first of all, I've learned so much about what I know from Kerry. Particularly studio techniques, most of which I had down by the time I was 20. I've been singing for him since I was 15 years old. By now we work like a well-oiled machine whenever we get together. 
The thing I find really funny about how we operate, which is unlike how I work in any other capacity, is that I almost never go into the studio to record his songs having heard them before. It's really amazing some of the stuff we've done that way. I go in, he plays me the music track, then again and he sings the vocal part along with it until I've got a basic idea of the melody. From there, I go into the booth with a lyric sheet and we just create. I do a lot of my own interpretations and ad libs and he's usually very positive and receptive to what I do. We also usually write the harmony parts on the spot and sometimes create entirely new stuff as we go. It's a ton of fun. It's been one of my truest joys in life to say that I've been able to learn from and work with such a genius and at the same time, spend time with my uncle who is my hero. I love that man and owe him so much. 
Thanks Jake!  You always deliver when it comes time to step up to the microphone and sing.   Fantastic job!